On August 18, 2016, after a successful capital campaign and completed construction project, we brought out the giant scissors to cut the ribbon of our new home! It was a celebration of friends,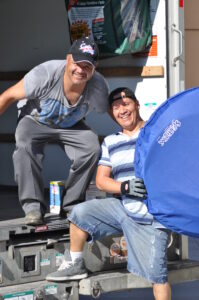 families, and community all coming together in gratitude and anticipation of what was possible! We had done it and owned our space, with no mortgage!
Hard to believe that it was five years ago when we packed up the 6,000 square feet of space we leased on 26th and Bloomington Ave to move into our permanent home a few blocks away. Community members and staff packed, labeled, and moved the Banyan Community into our permanent home (30,000 square feet). At the time, the space felt pretty big with much room to grow. Today, our space is filled with youth and families all year round – in response to community need. So much laughter, joy, curiosity, enrichment, learning, and new experiences are happening here every day.
In 2016 we outlined what was coming next as growth, depth, and expansion. Proud to report we've made tremendous progress on each goal, a few highlights include:
Brought permanence, Banyan is recognized as a community anchor, resulting in increased stability and connectedness in the neighborhood
Welcomed many new families to our programs
Graduated 32 youth from DeLaSalle High School who moved on to post secondary opportunities!!
Hosted too many events to count – for families, neighbors, and supporters
Launched our Community, Leadership, Education, and Connection program for Banyan adults
We look forward to the next five years, guided by our new strategic plan. Thank you so much for being an integral part of our journey!