(Part 4 of 4) The first three parts in the series introduced the concept of community development, assets or capitals (importantly social capital), and alliances. We can now bring these together in a four-level framework offered by Ferguson and Stoutland.
Level one are the grassroots organizations without paid staff. A block club is a good example. Level two are the frontline organizations such as churches, business and schools that residents patronize. Level three are the "local support organizations," including the policymakers, funders and businesses which support level two and "make up the authorizing and support environment for level [two]." Finally, level four comprises the "state, regional and national support entities" that "support levels [three] and [two]. Level four organizations "make the laws and regulations within which the system operated and they assemble and control resources that fund projects and pay salaries." Inside this framework we can now see that Banyan Community is an asset-based, frontline, community development organization that "develops youth, strengthens families and creates community."
In the figure below, I offer examples of each level.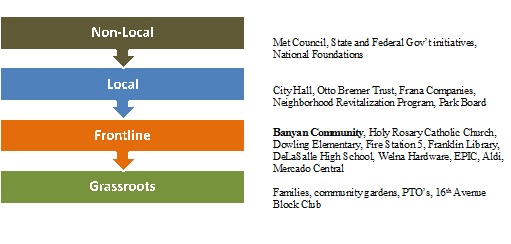 Twenty-five years ago, all Joani and I could see were liabilities, that "everything is broken." Somewhere along the way we turned our attention to assets and built Banyan Community from the ground up as an asset-based, community development corporation, with a solid foundation of social capital and alliances. Our new facility presents an opportunity to not only expand our reach, we can also enrich our community.