Over the last 22 years, St. Bart's School's Cool Ministry has partnered with Banyan Community to fill thousands of backpacks with school supplies and provide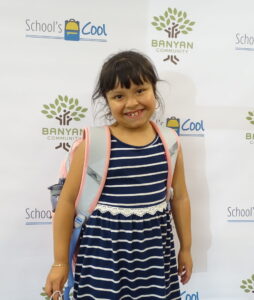 uniforms to youth in the Phillips neighborhood of south Minneapolis. One of the many results is the 70 graduates from DeLaSalle!
Backpacks, uniforms, and school supplies are just the beginning of ensuring our K-12 youth are prepared to succeed in school each year. Banyan kids work hard while supported by their parents and Banyan programs year-round.
You can be part of the success by supporting School's Cool this year by making a financial gift. Banyan families and staff are looking forward the 22-23 school year and hoping to support all 145 Banyan youth this year with your help.
Any level of support is welcome, but this is how it breaks down:
$125 covers a backpack and school supplies for 1 Banyan youth
$200 covers the uniform essentials for 1 Banyan youth attending a Catholic school
$325 covers a backpack, school supplies and uniforms for 1 Banyan youth
$650 covers a backpack, school supplies and uniforms for 2 Banyan youth
There are two ways to support School's Cool:
You can send a check payable to Banyan Community by August 1st
All donations are 100% tax deductible.