National Night Out (NNO) took place last month in our community. This annual event encourages residents to get out in the community, hold block parties, and get to know one another.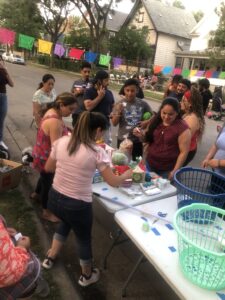 Banyan's Lighthouse Network supports NNO as part of efforts to connect neighbors with neighbors. It is one of the many ways our block club nurtures community and promotes safety communication on each block. For this year's NNO, block club leaders are ready to reconnect with their neighbors. One leader stated, "it'll be nice for our neighbors to feel like we still have a community here." Another leader stated that, "Our block is tri-lingual and at times it can be hard for everyone to communicate with one another. But sharing a meal together and having games for the kids to play makes our block feel connected."
Banyan provides supplies to help make these block parties a success, but it couldn't happen without the strong network of connected community leaders. The Lighthouse Network now includes 34 blocks with 68 leaders reaching out to 3,400 residents. The program engages residents to advocate, organize, and understand how systems work, and creates opportunities for learning and space for engagement.