It all starts with a backpack, uniform, and school supplies to ensure our K-12 youth are prepared to succeed in school. Banyan kids work hard and are supported by their parents and the Banyan programs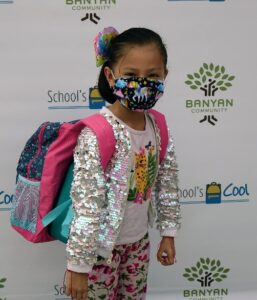 year-round – but also by the generosity of our donors.
As Banyan families and staff are looking forward the 21-22 school year as all signs are pointing to a more traditional learning environment. The School's Cool team is hoping to support 145 Banyan youth this year with your help. This year we are asking for your financial support, and the School's Cool team will do all the shopping to allow the team to leverage bulk purchasing.
School's Cool could not be possible without the leadership and support from the community at St. Bartholomew Catholic Church. Learn more about School's Cool and how you can have an impact this year.